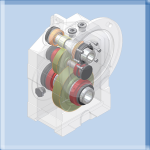 Shaft mounting gearboxes series PD are gearboxes with parallel axes gearboxes, with reduction stages consisting of helical gears. they are available in the version with two stages of reduction and in the version with three stages of reduction. The three stages version derives from the version with two stages of reduction just by adding a pre-reduction stage complete with its own housing that is connected to gearbox main housing.
Shaft-mounted gearboxes series PD are in PAM version for direct motor connection and in version with solid input shaft for a drive transmission.
Being shaft mounted gearboxes, they are equipped with torque arm, which simply consists of an insert in appaorpriate elastomeric material, which has to be fitted on the eyelet of the housing.
MPD shaft mounting gearboxes are identical to parallel axes gearboxes MPL in all respects, except for a different housing. however, the inner components are the same in all respects. MPD are prefered when shaft mounting is necessary.